That's Gneiss! #99 ~ Happy National 'Fill-in-the-blank' Day
In the space of about 20 minutes online this morning, I have seen at least three references that it's some sort of "day" today. Not the same "day," but three different "days."
International Peace Day (on Facebook)

World Gratitude Day (an email offering my double bonus points if I buy more shoes)

Batman Day (on Twitter while trying to find the other "day" I was certain I saw there a few minutes ago)
Oh no! It's the end of the day and I've just seen another - National Dance Day!
There are so many I can't keep up. I swear it's National Donut day several times a year, and I'm certain there are others that pop up more than once each 12-month cycle. I can understand why some folks might try to sneak in extra donut days, because who doesn't want an excuse to eat more donuts?
By the time you read this, it will be different day with something else to celebrate. Cheers!
---
I can tell I'm missing the Olympic Peninsula. Normally by now we've finished a long camping trip to our favorite spots, but this year we nixed a long trip due to the broken water tank in our trailer. A minor inconvenience for a short trip, but we didn't want to deal with it for 6-8 nights. No Peninsula for us!
While out with the dog the other day we walked the opposite direction than usual on one street and I spotted a rather large conk on a tree I've walked by many times - on the other side. This got me thinking about changing one's perspective from time to time, which naturally led to thoughts of the places I'm missing.
Some of you have no doubt visited the Hoh Rain Forest in Olympic National Park, and walked the Hall of Mosses trail. Like me, some of you may have walked it multiple times over the years.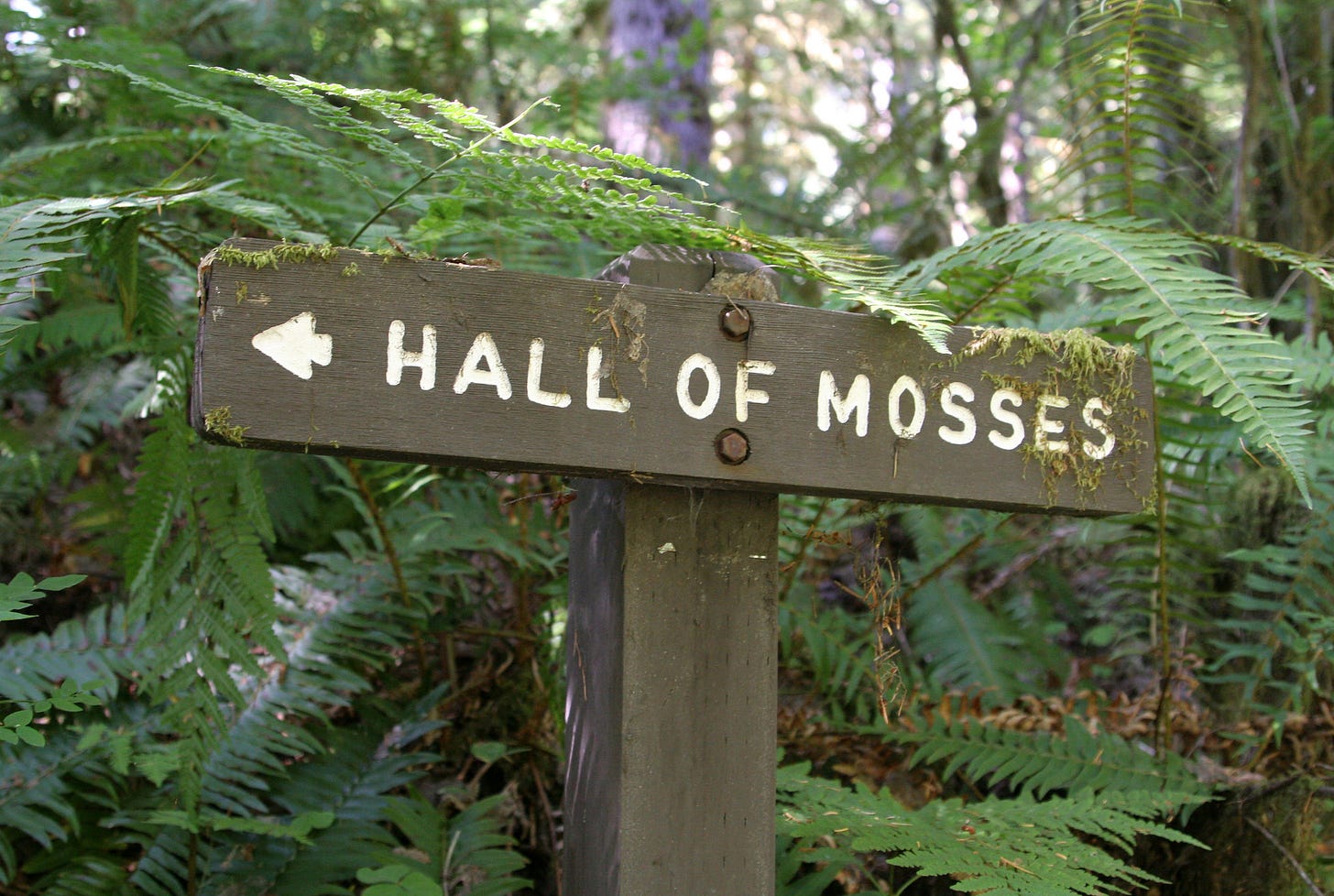 When you arrive at this sign, what do you do?
You follow the arrow, of course.
This is fine if it's your first, and even second visit. The beauty of the moss-draped forest is awe-inspiring at every turn.
After a couple of visits, the trail becomes familiar - you know what to expect along the way and the order you'll see things in. It's not that it becomes boring, but it is predictable.
There's no law that says you have to follow that arrow.
The last time I visited the Hall of Mosses I walked the other direction around the loop at Michael's suggestion. He had just done it himself and enjoyed walking the trail "backwards."
It was a brilliant idea!
The first advantage to walking the opposite direction had more to do with traffic flow. I didn't get caught behind slow groups ahead or pressured by faster groups behind. I met everyone head-on and passed quickly by, a simple matter that added to the enjoyment of the walk. The Hall of Mosses is not a place to go for solitude on a late summer afternoon.
While the trail was still familiar, I saw different things and took my time to see things differently (which are not exactly the same thing).
The scale of the forest is hard to capture in a normal photo, so I played around with the panorama setting on my phone. You wouldn't know from this photo that this giant log isn't laying on a flat surface.
Here's the same massive log from the bottom of this incline.
Looking up is always a good way to change perspective.
But have you ever used your camera to take a panorama shot from the ground to the sky?
I spotted this root which led to a tree growing out of the side of another tree way above the ground.
I'd missed this on every other visit because I didn't see this side of the tree.
Getting down to ground level is another way to change your perspective. Here's a little friend I met on one of my other trips to the Peninsula. Bonus mushroom!
I guess looking at my old photos of the Olympic Peninsula will have to suffice until next year when our water tank will be fixed and we'll be up for doing a longer camping trip. Speaking of camping - we've got one last trip coming up this week! Two nights at Deception Pass State Park. I'm sure I'll have tales to tell and hopefully plenty of interesting photos to share.
One last photo to send you on your way this week - walk a different path, look up and down, and you never know what you'll see! I saw this curled up mushroom leaning over another, smaller mushroom while walking the dog. The entire scene was no more than three inches tall.
Have a great week.
~Anne
---
Tidbits
---
Videos of the Week
The music! The footwork! The flares!
Here's an historical perspective on Northern Soul Dancing.
---
Question of the Week
If you feel like answering the question (or to just say hello), hit reply to this email. Answers will be shared next week - always anonymous.
If you were going to invent a "day" of celebration, what would it be?
~~~~~~~~~~~~~~~~~~~~~~~~~~~~~~~
Last week I asked about your favorite fonts.
I do have font preferences. Right now, my favorite is Calibri. Death to Comic Sans.
So many to choose from… I could get lost looking at fonts and typography all day. I tend to like a lot of fonts that fall into the Art Deco style family.
---
Current Temperature: 61.9 F (16.6 C)
Current Humidity: 97%
Wind (max gust): 6.9 mph
Precipitation: 0.32 in
Number of Subscribers: 113