That's Gneiss! #111 ~ Facebook, you are dead to me (almost)
Also: hairy cows, Instagram Face, and the latest from Algiers
On December 1st I signed out of Facebook.
My friends, it has been wonderful.
I've logged in a couple of times since then, mostly to let people into my group called Bollard Appreciation Society (it's apparently quite popular with urban planners). Each visit lasted less than two minutes, including a quick glance at everything else. There was nothing that kept my attention.
I don't miss it at all.
I've taken breaks from FB before, but this time it feels much different. The site has never been terribly user friendly, and just keeps getting worse. And ugly! So ugly. Allowing people to personalize their sites isn't difficult - remember what you could do with MySpace? You could add a song, and different backgrounds… it was possible to put together a site that reflected your individuality, as sparkly as you wanted it to be. No such joy on FB.
FB thinks they know what I want to see (wrong). I'm lucky to get 3-4 posts between advertisements anymore. I see posts from the people I've asked them to "show me first" but after that it's a crapshoot. Their algorithms suck. Just show me every post from my friends in chronological order please.
We all know that isn't going to happen. I'm not going to delete my FB account completely, because in a pinch it's the only way I have to contact some people. I'm still using messenger a bit. But day to day, I can really do without.
Are there any alternatives to FB?
I signed up for WT.Social, an offshoot of Wikipedia. It's really just a news feed with the added feature of being being able to comment on posts. I'm not seeing much in the way of original content.
OH.
ORIGINAL CONTENT.
That, my friends, is what I'm missing. I'm missing posts from people I care about that are longer than a couple of sentences. I miss the longer, in-depth missives that really give me an opportunity to know someone. There was a site called Multiply that some of you will remember. You could write a blog post, share music, and carry on a conversation in real time in the comments of each post. It wasn't riddled with advertisements and was a fun place to hang out with far-flung friends. Everything about FB discourages depth. It's all "scroll… scan… like… scroll… scan… like…"
This isn't even getting into the bad practices at FB that allow disinformation and manipulation. Judd Legum's Popular Information has done some great reporting on FB's role in the spread of lies.
So where does that leave me? I enjoy using Instagram (yes I know it's owned by FB). I have great control over what I see. I follow artists, nature accounts, and friends for the most part. It's much easier to tune out the politics. There is a certain IG aesthetic, and if you look at enough it can get repetitive. The Insta Repeat account documents (mocks?) the sameness of certain posts. I think it's inevitable, when you've got millions of people posting photos in one spot - you could probably pull together the same sort of collection on Flickr. Hairy cows are surprisingly popular.
And newsletters - I really enjoy the wide variety of newsletters that are available now. You can find somebody writing on just about any topic, or generalists (like me). Many folks are using newsletters as an alternative to traditional media outlets and publishing their investigative journalism, like Judd Legum. Some charge a bit of money for content, others don't (like me). I especially like that the newsletters arrive in my email.
Anyhow, I'm feeling rambly today so I'm going to stop now and share a few photos from Nolan and Mia… they'll be returning home in a couple of weeks. The time has flown by! They're traveling far to the south. Nolan sent a message a few days ago that they were as far south as Eugene, Oregon is north. He said it felt like Washington. Looks like it too!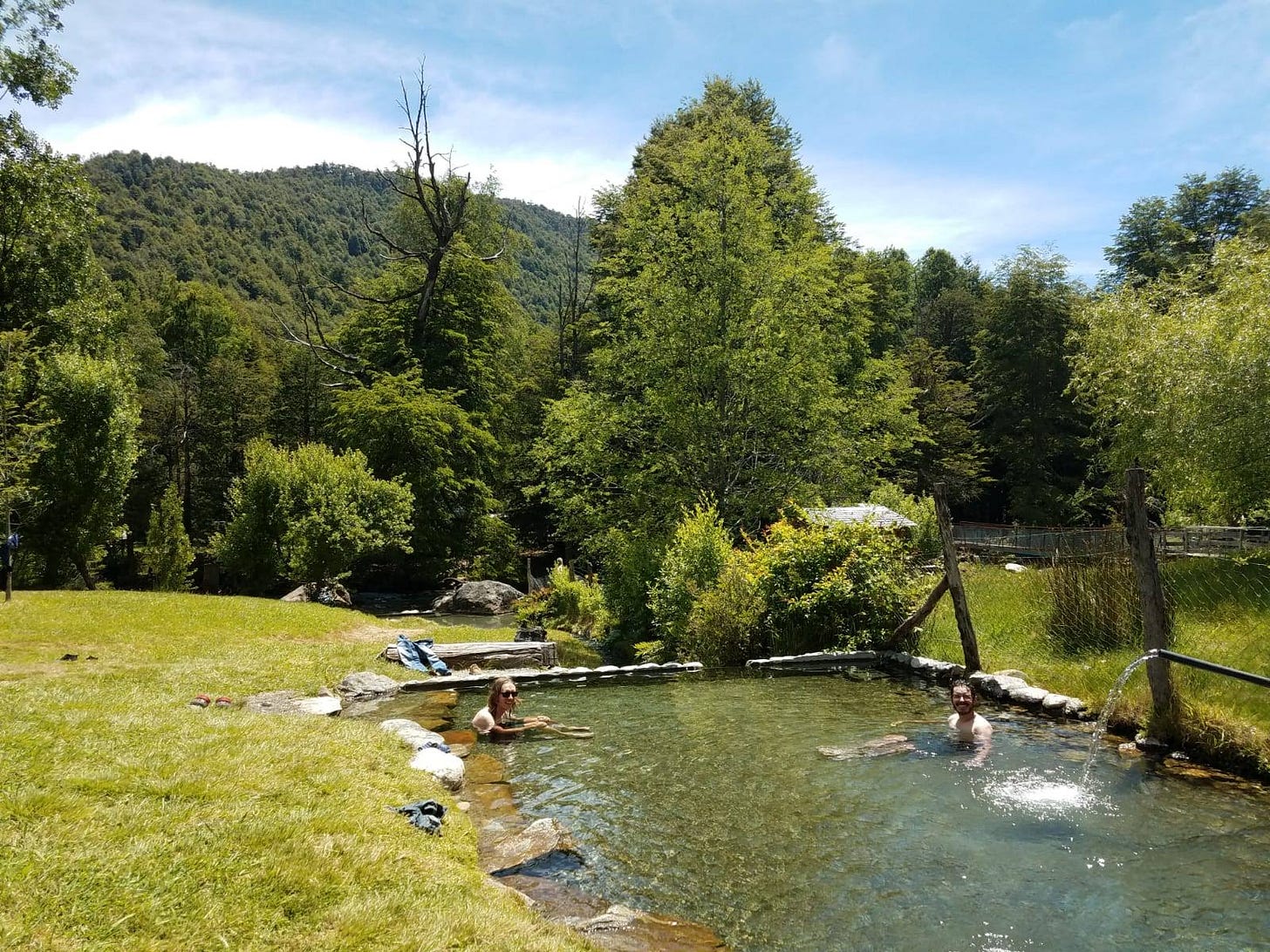 They've been seeing a lot of waterfalls. This is the Valley of the Condors.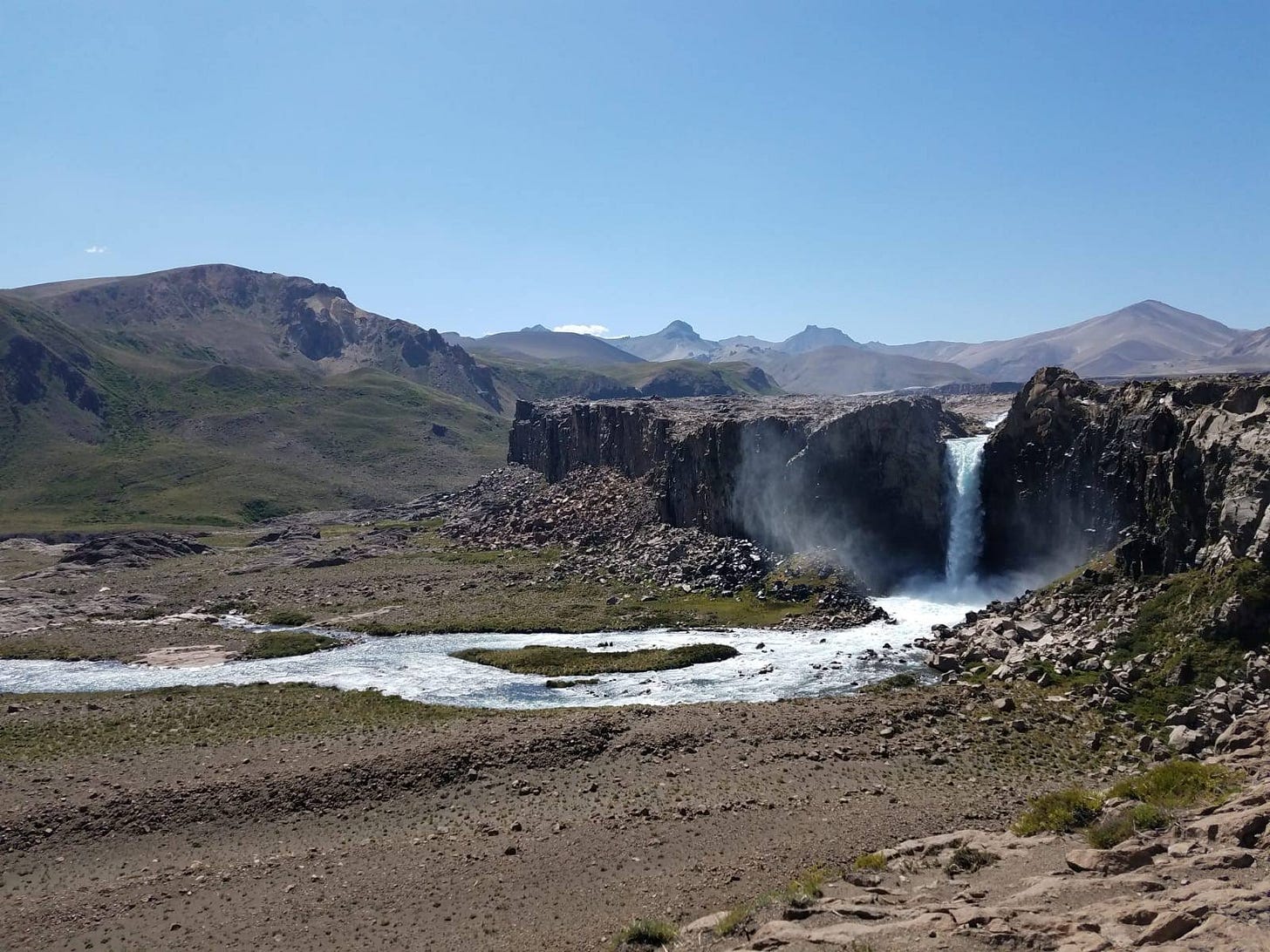 This could be the best thing of all… 100 mya Sauropad tracks!
Mia looks so tiny!
I hope you're all enjoying the holiday season, and not harried too much in the last few weeks of the year.
Until next week!
~Anne
---
Tidbits
---
Videos of the Week
We went out to see Michael's friend Chris Brokaw play with the band Brokeback on Thursday night. This band was one of the openers. I love their surf sound.
Also, our favorite band has a new song out…
---
Question of the Week
If you feel like answering the question (or to just say hello), hit reply to this email. Answers will be shared next week - always anonymous.
Does your family have any interesting/funny/unusual holiday traditions?
~~~~~~~~~~~~~~~~~~~~~~~~~~~~
We've got answers for two questions today.
What adventurous thing did you do or place did you visit in the last decade? (from two weeks ago)
I traveled in England, Scotland, and Wales with a niece. We stayed in Airbnb flats, and took trains and tubes in cities all over the UK and ate (and drank) like the adventurous women we are. It was wonderful!
I got busy and forgot to answer last week's question! Definitely, the most adventurous place I traveled in 2019 was my epic 3-week trip around New Zealand and Australia. Truly the trip of a lifetime. We snorkeled in the Great Barrier Reef, hiked around Ayers Rock, drove the Great Ocean Road to see the "Twelve Apostles," watched thousands of fairy penguins come out of the see at dusk and reunite with their families, got our pictures taken holding koalas....so many wonderful experiences rolled up in one extended vacation. I can't imagine I will ever have a trip that compares.
OK, fine. In light of this week's music selection, the most adventurous place I traveled this decade was...Cambodia! In addition to the excellent music scene before the revolution, there was also a huge interest in modernist architecture. Attached are some pictures of the ruins. (see the photos here!)
What were your favorite reads of 2019?
Favorite reads of 2019:

The Ruin by Dervla McTiernan - First in a new mystery series set in Ireland.

The Starless Sea by Erin Morgenstern - Epic adventure begins when a student checks out a book without a barcode. Set against the backdrop of amazing world-building.

The Dry by Jane Harper - First in a mystery series set in Australia.
My reading has been somewhat fragmented since I've delved deeper into fan fiction, but I did really enjoy Evvie Drake Starts Over:a Novel by Linda Holmes. Not at all a genre I typically read, but it grabbed me.
Last year I subscribed to London Review of Books, and it has been one of the best decisions of my reading life. It's a commitment, but includes a great variety of subject matter from art and literature to politics, history, and economics. It's the literal opposite of the average article on the Internet, and I didn't know how much I needed it.

Bookwise, I Know What I Am: The Life and Times of Artemisia Gentileschi, is a fierce graphic novel about one of my favorite post-Caravaggio Baroque painters.

On paper I should have hated Max Porter's Lanny--twee magical child? Green Man mysticism?--but I read it in one go and it worked.
SoulCraft by Bill Plotkin

Body Weight Strengh Training by Contreras
---
Current Temperature: 40.6 F (4.8 C)
Current Humidity: 93%
Wind (max gust): 6.9 mph
Precipitation: 0.15 in
Number of Subscribers: 131